What does it Mean to Pay it Forward?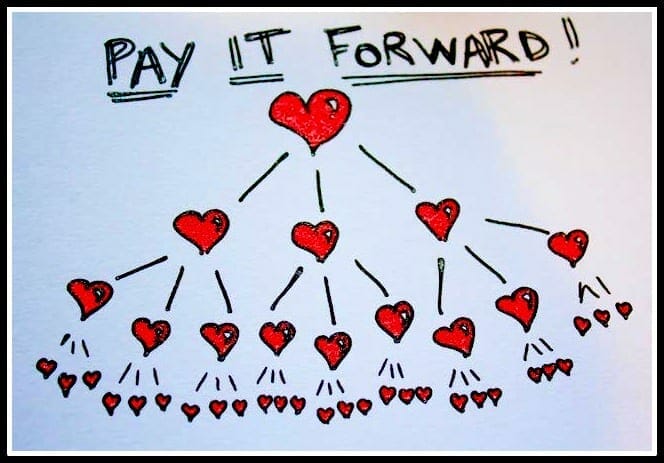 What does it mean to pay it forward? Years ago I was on vacation.  As I was washing my hands in the bathroom a woman dried her hands and pumped the paper towel holder a few extra times for me to grab.   As a bit of a germ-phobic, I obviously appreciated her kindness and when I said thank you, she simple replied…. "Pay it forward."  Since then I try to do random acts of kindness as much as I can to constantly pay it forward.  Small things count.
What does it Mean to Pay if Forward?
Pay it forward meaning
Last week I pushed 2 abandoned shopping carts out of the handicapped parking spot to ensure someone who needed the spot could use it.
This week I cleared the table while we were out to dinner.  I have 2 messy kids and all our waitress needed to do was pick up the stacked plates with all the garbage on them and take them away.  Is it her job to clear our table?  Yes.  Could I make it easier for her, yes, so we did.
Good Samaritan
While being a good samaritan, I have many times gotten angry at the lack of acknowledgment for my good deeds.  Am I doing them to get credit, no.  But when I let you in my lane by waving you in, a simple hand up in the rearview mirror would be nice.
It seriously shocks me how rude and inconsiderate people can be.  While I'm carrying my son and holding my daughter's hand and somehow holding the door for the person behind me with my spare hip and the person walks in without a thank you, I'm stunned.  The ironic thing is, the toddler I'm holding has better manners than the adult who walked by us.
I run into too few good samaritans and way too many people preoccupied with themselves or their phones.  So today I encourage you to pay it forward, do a good deed and if that's not possible, at least try to say thank you for those trying to do so.
In a world and country so divided these days, I think everyone should just be nice.  Such a juvenile concept, I know.  But just be nice.  I think a lot of people have hate in their hearts and sadness on the mind.  These things add up to behaviors that only continue the cycle upon others.  So let's focus on being nice to ourselves and others.  Kindness goes a long way.
How do you Pay it Forward?
Sign up for our newsletter
For years I have had a relationship with my migraine monster. I have thought about naming it. As I thought of the ugliest awful name I could give, I vetoed the idea. I didn't want to give it the respect of naming it and looking at it as anything. The monster is giving it too…
Read More

→
Migraine pregnancy, breastfeeding, and medication are very complicated! Migraine medication and breastfeeding are even more personal than ever. Overall, migraine during pregnancy is just HARD! I have been pregnant and nursing for the last 2 years. I was off meds while trying to conceive and was unable and unwilling to take anything while my body…
Read More

→
When medication doesn't work anymore, I take a medication vacation. Several times a year, my medication stops working. To begin with, preventative medications give me terrible side effects. It took me YEARS to find the right medication for me. I have been on and off Botox for years, with different results each time. I've also found good…
Read More

→