Year of the Pandemic: 2020 Year End Review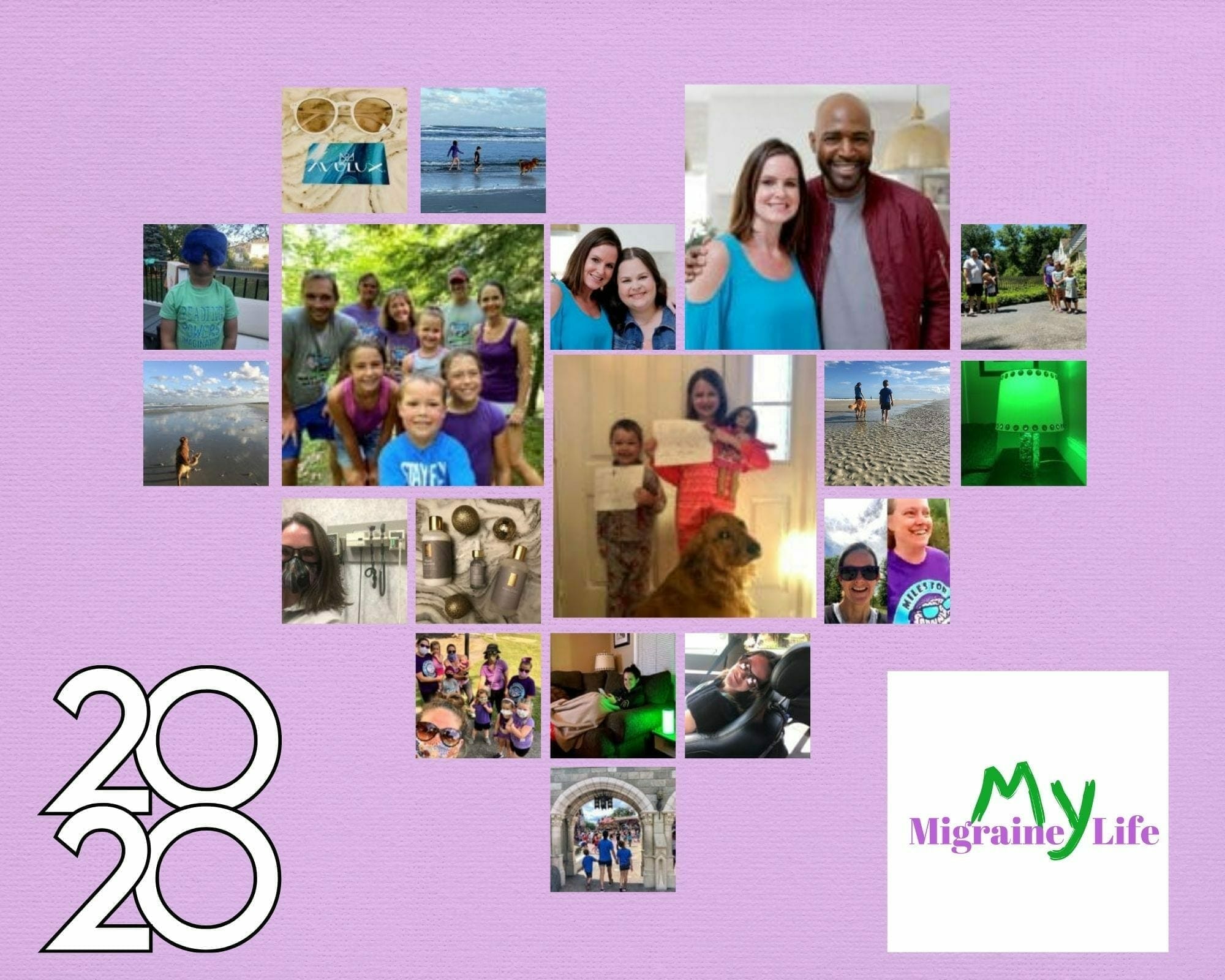 2020 is the year of the pandemic. My 2020 year-end review proves that it's a  year that changed us all forever! Goodbye, 2020!
I've begun my end-of-the-year post several times over the last few weeks and am struggling. I struggle to look back, step forward, and have mixed feelings about it all. As I looked back at all the posts I wrote, I was surprised at how much I got done. I'm reminded that a lot was accomplished in a year that I felt like I was on a hamster wheel going nowhere.
As I sit here, watching the Today Show, I just keep crying. The stories of sadness, hope, and community are the most powerful I've ever experienced. We've lived through a year of a pandemic, heightened racism, a new president, and all are still hanging with uncertainty.
Before I begin my reflection, I want to wholeheartedly stop and take a moment for the 343k lives lost in the U.S. and 1.81M worldwide. 
The 2020 Year-End Review
I began my year like many others.  I made goals for 2020, was teaching, and traveled. Traveling is something I will never take for granted again. In February, I had the incredible opportunity to interview Karamo Brown, from Netflix 'Queer Eye' for the Know Migraine Mission in Los Angeles.  The trip and experience are ones I will look back at forever as the carefree moments before Covid.
After my interview with Karamo, our family went to Disneyland. We hiked the Hollywood Hills then we headed off to the happiest place on earth, it felt very dreamy. I still have my Anaheim post drafted because I never had a chance to complete it before the pandemic hit.
After we went to Disneyland, I flew to New York City for another migraine project. This is yet another post I never completed. At one point during the year, I tried to go back and write about it but it's emotionally exhausting. My trip from L.A. to New York was in the largest and most crowded airplane I've ever seen.  At the time, I had heard about Covid-19 and wore a mask. I was one of 2 people on the plane that wore one. I never thought it would become the norm. We had a powerful meeting of the migraine minds and my advocacy tank was full after this trip. I was inspired and ready to take on the year.
When the Pandemic Hit
2 weeks after I returned, I walked out of my classroom on a typical Thursday and NEVER RETURNED! My preschool stopped in-person classes (as did my 1st and 3rd graders). I taught zoom classes to my preschoolers, helped my children navigate at-home learning and my husband (who typically travels A LOT) was working from home for good.
Ultimately, my preschool closed the school down permanently hidden under the cloud of Covid. There was a lack of compassion towards us during such an insane time which hurt the most.  It added insult, to injury during a pandemic.  If the pandemic has done anything (and it's done a lot), it sure has highlighted the love and darkness of people. The teachers, parents, and students continue to lift me up and will forever be my friends.
The Year of the Pandemic
Once my heart was broken professionally, I was able to fully focus on my family and what is best for us. The year of the pandemic sure did show how different families are and the concerns they have for their community. Many were isolated, many continued to carelessly spread their germs and many did their best to minimize exposure while maximizing life. There was no such thing as balance and everyone was in survival mode.
By September, I had opted into my kids staying remote and started a new career. Opting into remote school while my district was in person is one of the hardest decisions I've ever made as a mom. My thumb hovered over the send button for minutes that felt like hours. Having an option almost made things harder for me. If I had been a teacher, I would have gone into school and done what needed to be done. But being I was home, working on my computer, the risk of exposing them was unnecessary. Another post I haven't written this year is the decision to keep my kids home and the reasons behind it. There have been lots of silver linings and bumps along the way.
Pivoting
Along with having my kids home for school, I pivoted into a new career. What has been my passion project for 6 years as a migraine advocate, has officially turned into full-time work towards a better migraine world. My Migraine Life has given me some great opportunities and it feels good to be valued and listened to.  In January, I will be announcing another big project I have been working on and have more planned for 2021!
I also have gotten more involved with Miles for Migraine and am currently working on a fellowship and advocacy program that is going to benefit headache centers, doctors, and patients across the U.S. Starting a new job, during a pandemic while having my children home has been A LOT! To all those working parents out there with remote learners sitting next to you, I feel you! Having kids at home does not make me their teacher.
Somehow I squeezed in a college course and lengthy advocacy training program. Ya know, since I had nothing else to do!
Social Distancing, What's that?
Corona Virus, it's our reality
5 ways my life changed with COVID-19
Making a Difference: 2020 Year End Review
Despite the year of the pandemic, I did a lot of migraine advocacy! Virtually, I did 2 Miles for Migraine walk/runs. I walked virtually with part of my team in Cincinnati and did a week of fundraising and run in Cleveland. After making so many memories at these events over the last couple of years, I appreciate my team as always and look forward to being in person again.
I did 2 live events that I am particularly proud of. I spoke at an Education Day describing how I turned My Migraine Life into purpose. This was intimidating since I'm a bit nervous about public speaking. But I rose to the challenge and did my best. (check out the video below)
Ending the year, I moderated a live Webinar with Karamo Brown, a neurologist, and a patient. We answered questions, talked about dealing with Covid-19 during the holidays and continued the Know Migraine Mission.
Additionally, you may have chatted with me on the Healthline app for weekly chats.
Migraine awareness month merchandise
Whitney Cummings-Migraine World Summit
Miles for Migraine Education Day

Pandemic Products
If there's anything the year of the pandemic screams, it's at home products! Locked in my house and needing home treatments, I tried a lot of fun products in 2020.
Best Clean Beauty Winners of 2020
2020 Year End Review Silver Linings
Despite all that was taken away from me, my 2020 year-end review reveals so many blessings. My family was willing and able to live a quarantine life while others chose or were forced to live their lives differently. The hardest part is watching people ignore obvious precautions and make my family's efforts feel negated. We chose to stay home to protect our family (both in house and extended) and our community. The whole saying, "I feel like I'm in kindergarten with the class being punished for one student's behavior" is a good description of our circumstance.
Throughout the year, I watched families succumb to quarantine fatigue and socialize unsafely. I also saw amazing shifts in how we socialize and create meaningful experiences. The creativity in staying connected has been so endearing to watch.  2020 has taught us that we can do things we didn't think possible. We have bonded even more and realized more is not better. QUALITY OVER QUANTITY.
Finding Joy with fewer People and More Quality Time
With a need for escaping our house, my family decided to work and school remotely for 3 weeks in Florida.  This trip filled my heart, soul, and mind. As someone from the midwest and a lover of travel, seeing the ocean and stepping onto the sand felt so incredibly healing. My days in Florida with my family during a pandemic year would not have been possible if we weren't remote.
One of our silver linings is nature! At home, we hiked tons of miles and many locations this year. Away, we explored the beach. Nature has been hugely grounding and healing especially while trying to socially distance ourselves.  I feel like I have taken so much from my kids when in reality I was able to give them memories that overshadow this insane year. We all have been able to tap into who we are without peer influence and look deeper at what's important to us. We found new ways to connect with the world while minimizing physical closeness.
2021
Today is New Year's Eve and I asked my son how this year was. He looked at me with his bright eyes and said, "Mom, it was great. We got to live in Florida, I got to stay home with you, and  when I finished my work I could play more." It's all about perspective. I wouldn't call it great….I'd call it life-changing. I now look at life as pre-Covid and life after.  While the pandemic will continue past the clock striking midnight tonight, I feel optimistic that there will be changes for the better in 2021.
2021, I ask that you give me back my hugs. With all this positivity and silver linings, I'll admit that this year has taken so much from me. Just give me back my people. I've had time to identify who was toxic and won't be going back to them. We also have learned a lot about ourselves and what we don't need in our lives.
But I've missed the closeness of so many that fuel me. I want to see so many people that have been missing from this year.  My kids want to return to class and high-five their teammates. And above all, I want to hug my parents without fear. We've lived in the bubble for almost a year now and when that day comes, I'll know it will all be worth it. The 10 pounds I gained, the 20 years I aged will just be signs that I survived in 2020. In 2021 I want to embrace life again…..physically!
Past Year's Highlights
My Migraine Life Highlights 2019
Take Away 2018: My Migraine Life
Best My Migraine Life posts of 2017
My Migraine Life 2016 highlights
A top Migraine Blogger for 2015
Allay Lamp- Green Light Therapy
Sarah tells stories of My Migraine Life. Living life through Migraine consists of advocacy, treatment, prevention, and searching for health and happiness in a positive honest way. Her kids, husband, dog, family and friends motivate her to make a difference in the Migraine World.
My Migraine Life Highlights 2019 is A Lot. The year seemed to slip by and looking back, I ...
Read More

→
How to Tell your Boss you have a Migraine? Do you have coworkers and a boss who don't understand ...
Read More

→
Can dehydration cause headaches? Yes! And for me, dehydration triggers my migraine. The good news is that it is ...
Read More

→